Mandalay Beach Club Condo Towers
Mandalay Beach Club Condo Towers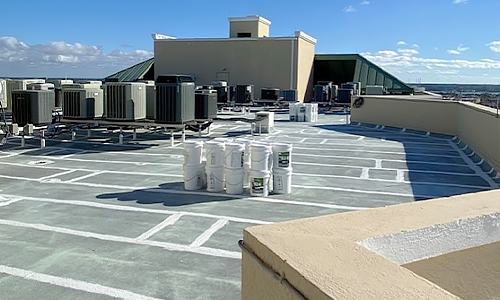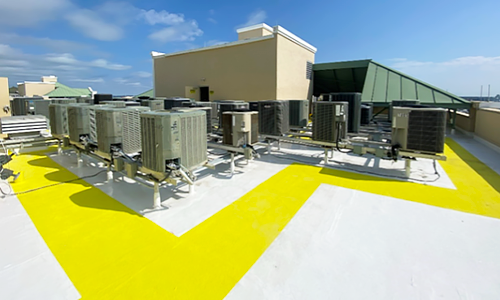 The modified bitumen was nearing the end of its life cycle and still in sound condition to restore/extend the life of the roof via a Tropical Fluid Applied Restoration.
A Tropical 20-Year Labor & Material Warranty Silicone Restoration System was applied to the entire roof substrate.  Given Florida's harsh weather conditions and the building's location/roof's condition - Tropical 924 proved to be the most viable solution for this project.
After the roof was cleaned and dried, the Tropical 996 Bleed Blocker was applied to all asphaltic based surfaces to eliminate potential asphalt discoloration in the silicone restoration.   Next, the Tropical 9400 Silicone Mastic was applied to mod-bit seams and around all flashing details including penetrations, vents, pipes and drains.  After this detail work was completed, the Tropical 924 White Silicone was applied over the entire roof surface to create an energy efficient, monolithic, seamless silicone system.  In addition, due to nature of the high-trafficked roof (from AC work), the Tropical 924 Safety Yellow Silicone was applied in walk-way grids to help allow for designated areas to utilize for navigating the roof.
Roofing Contractor
Munyan Painting, Roofing & Repair Services
Location
Clearwater Beach, FL
Project Area + Info
30,000 square feet

Modified Bitumen Substrate

Some granule loss on the modified bitumen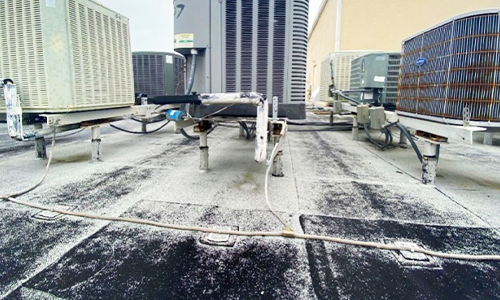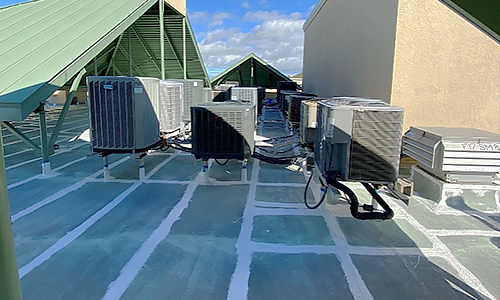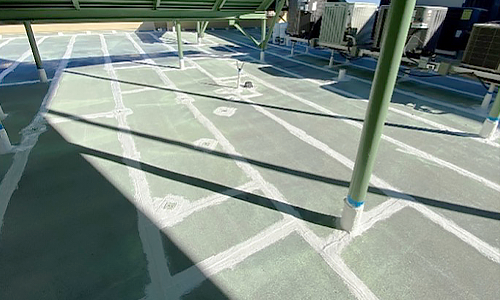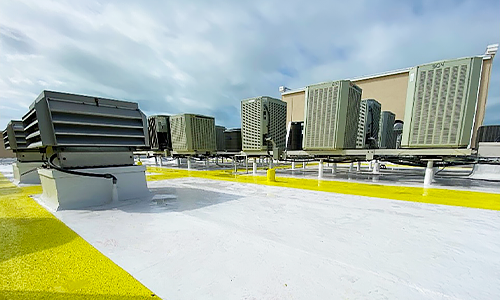 The property manager expressed their extreme satisfaction knowing the peace-of-mind of preserving their roof with Fluid Applied System, accompanied with a Tropical 20-Year Restoration Warranty.  Notably, Munyan surpassed expectations of communicating with Tropical and with the property manager to ensure that the product was applied correctly with minimal disruption to the tenants while the project was being completed. The property manager consented to providing testimonial feedback for those needing references.
To repair Minor leaks around roof drains, and penetrations.
LEARN MORE >