Plantation Golf & Country Club - Venice, FL
Plantation Golf & Country Club - Venice, FL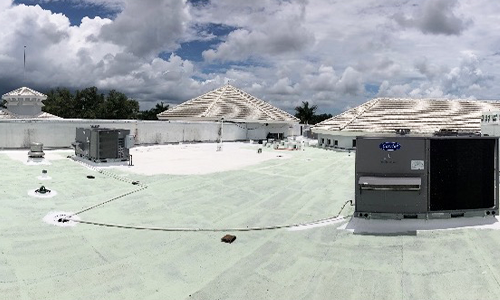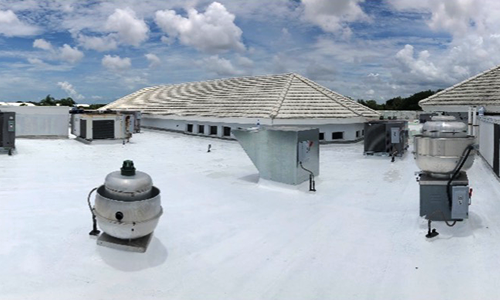 Leaks in around penetration area and perimeter of parapet walls; Mod-Bit was getting weathered and "alligatoring" (cracking) occurring on the exposed asphalt areas. The mod-bit was nearing the end of its life cycle, but still in good condition to restore and extend the life of the roof.
A Tropical 10-Year Labor & Material Warranty 924 Silicone Restoration System was applied to the entire roof substrate of modified bitumen.
The job was completed during "rainy season" in Florida - so it took longer than expected.  Though, by using a Tropical Silicone system, the silicone dried extremely fast (which was good) because of the high humidity in Florida.  This was good to avoid the silicone from being affected by random rain showers since it would dry so quickly.
A silicone system was chosen due to the small low-lying areas on the roof that had ponding water - as well as silicone's nature of being fast-drying due to its moisture curing properties (i.e. - it cures quickly in humid weather).
The roof first had small repairs completed to to bring it up to a "coat-able" substrate.  Next, the entire roof was cleaned with the Tropical 652 Ultra Green Roof Wash.  Then the substrate was coated with Tropical 996 Asphalt Bleed Blocker.  The seams and penetrations were then treated with Tropical 9400 Silicone Mastic to reinforce the areas on the mod-bit with most degradation and potential to be compromised.  Finally, the entire roof had Tropical 924 applied over it to create one monolithic silicone system.
Roofing Contractor
Crown Roofing, LLC
Distributor
Gulfeagle Supply, Sarasota, FL
Roof Information
14,200 square feet

Modified Bitumen Substrate

Some granule loss on the modified bitumen

Flat roof with spotty areas of small ponding water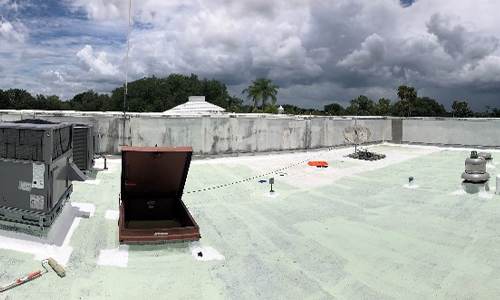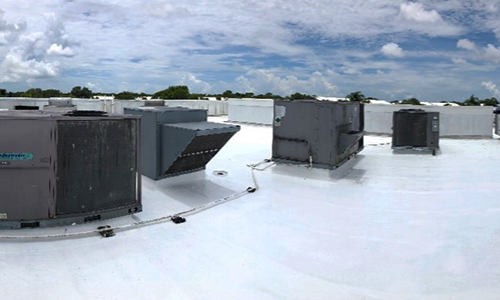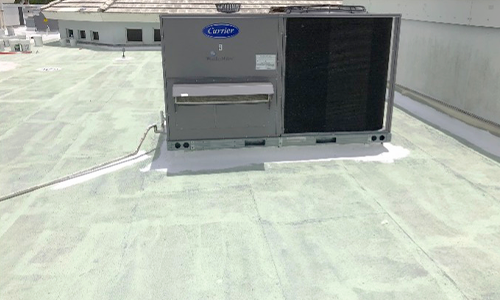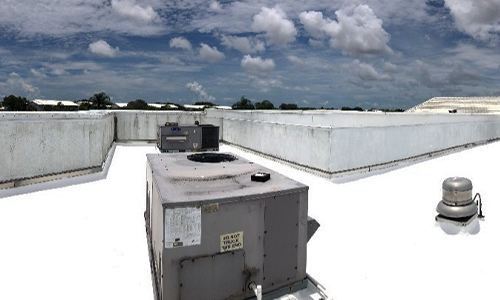 The building owner was happy that the leaks were compromised, and they received a 10-Year Labor & Material Warranty to extend the lifespan of their roof.  They were pleased with the contractor and Tropical's working relationship in order to ensure there was minimal disruption to their Golf Course while the project was underway.
Crown Roofing did an excellent job communicating with Tropical to ensure that the product was applied correctly.
To repair Minor leaks around roof drains, and penetrations.
LEARN MORE >